Welcome to Our site
AKC Mini poodles with Both parents Health Tested 
        3 puppies available   
We live in the beautiful valley of Salmon Idaho. On this page there is a mountain view and that is our back yard.  I get to see this every day, what a wonderful Blessing. Our dogs live in our home as a family. They get lots of attention, even with my two teenage kids.  Our girls and boys are health tested.  All pups come with age-appropriate worming, shots and a wellness exam by a vet before leaving.  Also, de claws removed and docked tails. 
Picture of pups are individual on puppy page!
Sold AKC Tri Male (7-25-2023)          Born April 18, 2023,         
AKC Female Clear IVDD/Cddy  
AKC Tri Female  Pet/companion    Sweet, loving, loves to play.      Below is picture of her and male together. Brother and sister. 
Pictures of past puppies
Sold all these guys down below
These are pups from Crystal first litter with a toy poodle.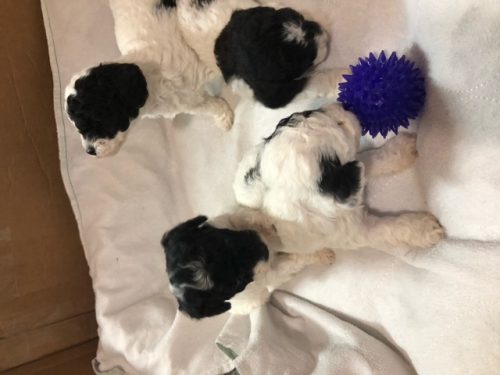 Cockapoo Puppies Born April 10-2022   Sold also 
Individual puppies are in the puppy page
Sire:  Ricardo 
Miss Woo Woo