Welcome to Our site
AKC Mini poodles with Both parents carrying the Tri Parti : will be born around March 2023
                                                                                                    Cockapoos 2 females available!       
We live in the beautiful valley of Salmon Idaho. On this page there is a mountain view and that is our back yard.  I get to see that everyday, what a wonderful  Blessing. Our dogs live in our home as a family. They get lots of attention, even with my two teenage  kids.  Our girls and boys are health tested.  All pups come with age appropriate worming, shots and a wellness exam by a vet before leaving.  Also, de claws removed and docked tails. 
Picture of pups are individual  on puppy page!
Cougar is looking for a forever home.  She is spayed and comes with her Harness and leash plus her doggie bed.  Potty trained with doggie door.  I do put her in my room if gone for half a day  No accidents. She looks more poodle to me that why I have more of a poodle cut.  
Tan (savanna) female who chases the ball.  She very sweet to and follow you everywhere.       Available!
She is small Cockapoo loves my lap.  Weighs 5 pounds.
Sold all these guys down below
These are pups from Crystal first litter with a toy poodle.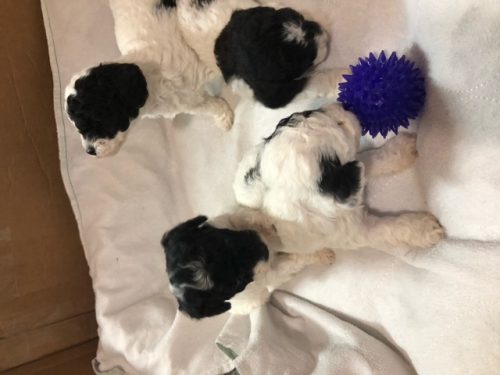 Cockapoo Puppies Born April 10-2022   Sold also 
Individual puppies are in the puppy page
Sire:  Ricardo 
Miss Woo Woo